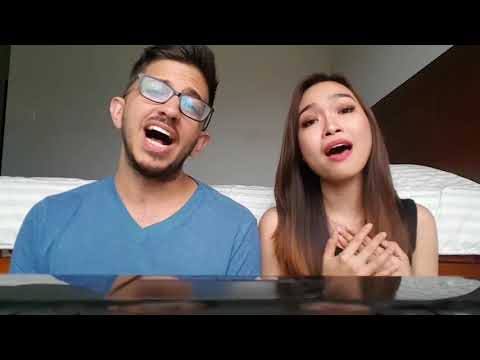 Description:
Belajar lewat musik featuring lagu Dari Mata by Jaz. Lagunya telah diterjemahkan oleh Mr D. Aku dibantuin nyanyi lagu nya sama Inka Marindra karena aku emang bukan penyanyi.
Nonton video2 aku yg lain lewat IG: http://www.instagram.com/guruku_mr.d
I wanted to make the song work in English in a poetic way with rhyming so that's why it's not exactly word-for-word, take a look at my translation...
Full lyrics:
Your eyes weaken me from the first
Oh from the very first time I saw you
and real talk
I never felt this weakness
I never felt anything bad as this
Your eyes weaken me from the first
Oh from the very first time I saw you
and real talk
I never felt this weakness
I never felt anything bad as this
Oh could this
Really be the first time I ever felt true love
Cause this feeling inside me just ain't so usual
And if it truly ain't no lie
Then where's it come from
Tell me where's the start
It starts in your eyes
In your eyes
I realize
That's where I start
To
fall for you
I can see
I can see it all
From your eyes I
Can see our future
like a picture
It starts in your eyes (It's all in your eyes)
It starts in your eyes
In your eyes
I realize
That's where I start
To
fall for you
I can see
I can see it all
From your eyes I
Can see our future
like a picture
It starts in your eyes
Your eyes weaken me from the first
Oh from the very first time I saw you
and real talk
I never felt this weakness
I never felt anything bad as this
Oh could this
Really be the first time I ever felt true love
Cause this feeling inside me just ain't so usual
And if it truly ain't no lie
Then where's it come from
Tell me where's the start
It starts in your eyes
In your eyes
I realize
That's where I start
To
fall for you
I can see
I can see it all
From your eyes I
Can see our future
like a picture
It starts in your eyes (It's all in your eyes)
It starts in your eyes
In your eyes
I realize
That's where I start
To
fall for you
I can see
I can see it all
From your eyes I
Can see our future
like a picture
It starts in your eyes
Your eyes they stun me
They paralyze me
Then I realize
It starts in your eyes
In your eyes
I realize
That's where I start
To
fall for you
I can see
I can see it all
From your eyes I
Can see our future
like a picture
It starts in your eyes (It's all in your eyes)
It starts in your eyes
In your eyes
I realize
That's where I start
To
fall for you
I can see
I can see it all
From your eyes I
Can see our future
See our future
like a picture
It starts in your eyes
It's all in your eyes